Have some old brassy light fixtures around the house that seem outdated and you're tempted to trash? WAIT!!! Before you throw those out and replace them with new expensive lighting take a look at this....
I got this old brassy chandelier for $10 at a local thrift store: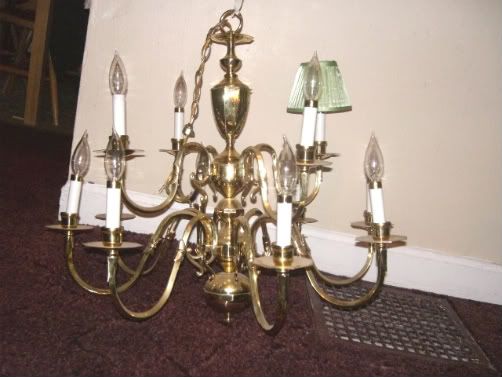 When I brought it home my husband LITERALLY said, "Why did you buy that piece of JUNK?" I told him that the next time he saw it he wouldn't recognize it, and he rolled his eyes and smiled.
So later that day I went to Lowes and bought some spray paint (this large 12 arm chandelier took 2 cans of paint to fully cover). I bought one can of brown and one of black. Before I started painting I took some scrap paper and covered the electrical parts of the arms, and then I took it outside, laid it on my old recycle bin and sprayed and sprayed!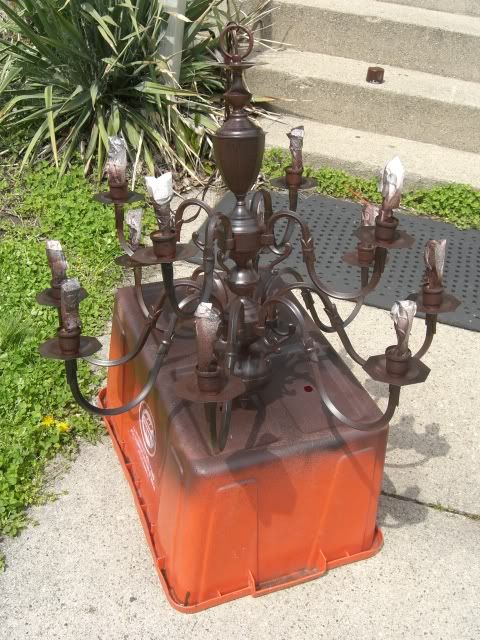 First I took the brown paint and sprayed the side that was facing up, making sure to really get every angle. Then I let it dry for about 30 minutes and then I turned it around and sprayed the side that was originally facing down with the brown paint. After that dried I lightly coated the entire thing with the black paint which created a speckled look with the brown showing through underneath...
Even I was shocked at the quality of the finished product!!!
For the finishing touch, I went to a store called "Old Time Pottery" and believe it or not I got these shades (which were a buy-out from Target) for $1.00 each!!! Amazing! And it loos even better in person!!
When my husband saw it he couldn't BELIEVE it was the same old junky light he saw earlier!!
So before you take down those old brassy lights, consider painting them! OR before you go and buy brand new lights, go to your local thrift store and get the ugliest brass light you can find....you'll be SHOCKED at what a little paint can do!!!