Like many of you I'm sure, my husband and I bought a "fixer-upper" for our starter home. The kitchen was by far the room that needed the most help.
What I dreamed of having was something like this: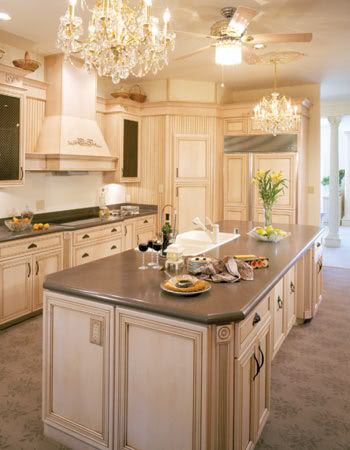 Or this: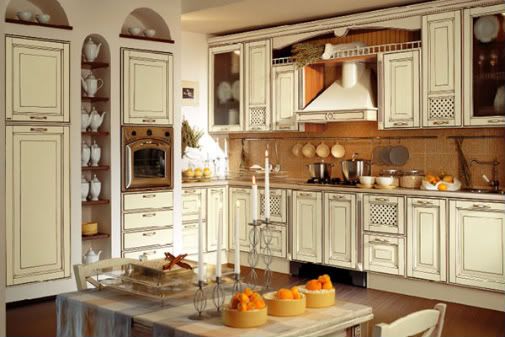 But what we got was this:
These were the ONLY cabinets in the entire kitchen, (talk about limited storage space!!!) and of course they were your standard UGLY brown wooden variety. Not to mention the hideous cheap GREEN countertop with matching sticky tile laminate flooring...
Oh yes...the first thing on my list was a kitchen re-model. My husband and I set down and crunched some numbers and realized that we had AT MOST a $400.00 budget to re-do the entire kitchen. At first, this sounded like a reasonable amount of money! But I soon realized that $400.00 was NOTHING. I needed to find cabinets for the rest of the kitchen, purchase new counter tops, a new sink, all the primer, paint, and glaze to faux finish the cabinets, new cabinet handles, and not to mention new flooring!
So I realized that in order to stay in budget I would have to shop around for a long time until I found super sales. My goal was a new set of cabinets in the corner, and on the wall which as you can see was originally completely empty:
With only a $400 budget new cabinets weren't an option. I began scanning craigslist and spreading the word that we were looking for a set. I also wanted tile flooring, which I KNEW could only be possible if I found a SUPER sale on tile and grout somewhere...I didn't know what to do in terms of countertops, and I guess I was just crossing my fingers that at some point I would find exactly what we needed for dirt cheap.
Waiting for super sales when you want nothing more than to re-model NOW is not easy. I occupied and distracted myself by focusing on the one thing I COULD do which was begin re-painting the cabinets we had in place so that's where I started....
I bought some Kiltz primer, the cheapest gallon of paint I could get at Lowes which was about $12...(a cream colored Semi Gloss finish), the cheapest brushes I could get and I started priming: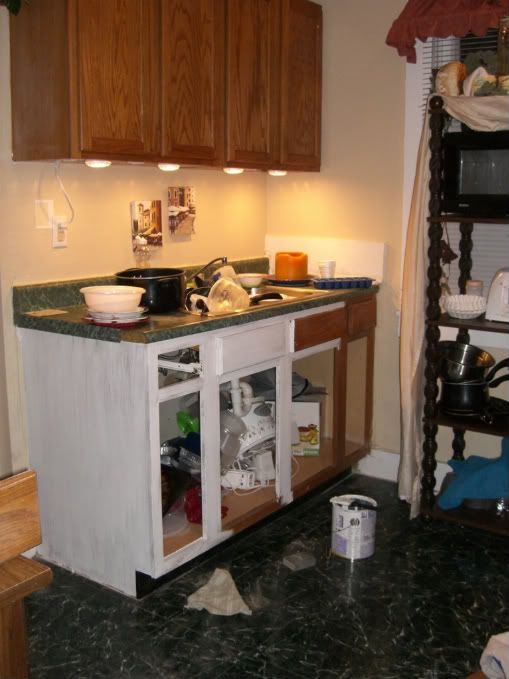 After removing all the doors and hinges to prime, I painted the entire thing the cream color. While I was at it, I went ahead and added some under the counter lights because I found them on sale for $5!! And soon it looked like this:
NOT bad!! Already a massive improvement in itself, but I wasn't nearly finished...now was time for the faux finishing...
I begin by adding some fancy appliques to the fronts of all of the doors. This was tricky because I had to measure perfectly in order for them to be uniform. I got a TON of these appliques off of a clearance shelf at Lowes marked down to .30 for a 2 pack. However, they were dark brown so I had to paint them the color of the cabinets before gluing them on the fronts...
Here is the base part of the cabinets:
And here are the wall cabinets: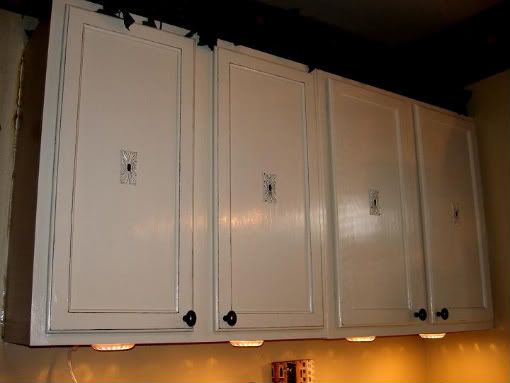 Of COURSE I couldn't just paint the appliques the same color of the cabinets because they would completely disappear, so I took a black paint pen that I got at Hobby Lobby for $2.99 and I accented the appliques by coloring in the grooves, and then also coloring in the oval in the center.
This worked out nicely because coloring in the oval of the appliques actually ended up matching the oval of the knobs I chose for the cabinets....
Speaking of the handles and knobs...went to a local furniture warehouse and got the oval knobs for $2 each, and the handles I found at target for $1.99 each...(FYI: Now Target doesn't sell the handles separately and you have to purchase them in a 10 pack)...
Then I took the paint pen and edged all the edges of the cabinets just to help them stand out a little...
Then as if God himself was taking on the project...my husband and I went to IKEA just for fun and ended up finding out that they had a line of incredible brownish countertops that were being discontinued!!! $40 for the biggest pieces they had which (I THINK) were 96" long! I bought two of the longest pieces they had in the hopes that soon I would get extra base cabinets...
Next came ripping out the old nasty green countertop...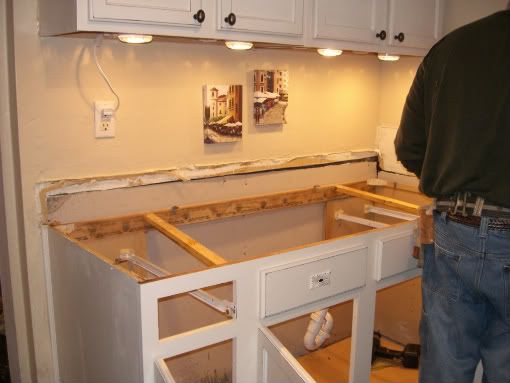 Because this was a big project and it involved cutting the countertops to fit our base cabeinets, we called in reinforcements: my Dad. Here he is outside getting ready to cut the countertop down to 48" to replace the original countertop:
Within a few hours he had it installed!! Also, at IKEA (while picking up the countertops)my husband and I found a unique ROUND sink for only $19.99 regularly priced! AND....I got a $129.00 kitchen facet set for $29.99 at Home Depot on a Clearance endcap...all of which my Dad agreed to install the same day he cut and installed the countertops:
Here he is getting ready to cut out the round hole to place the sink:
And here is the finished countertop and sink!!!
Right around this time, as if the super deal with the IKEA countertops wasn't enough....my friend called me up and said that her neighbor just replaced all her cabinets and had the old ones available IF I wanted them....
FREE cabinets!! She warned me that they weren't nice...and not to get too excited. What we ended up getting was more than I could have ever asked for!!! Enough cabinets to do another base and wall cabinets in the empty corner!! Plus a wall cabinet for the wall by the oven...and extra cabinets for the laundry room too!
Now we were able to fill the empty corner in the kitchen!! From this:
To this:
My dad also cut the countertop for the new cabinets too. As you can see from these pics, they were originally an ugly brown color too. Just like with the original set of cabinets I had to prime, paint and re-finish these these as well.
I had finally doubled my kitchen storage space and countertops for very very little money out of our budget!! But OF COURSE...I wasn't done. I still had to complete the last step of faux finishing the cabinets: cracking and glazing them. This takes quite a bit of patience and probably isn't for novices (more on the how-to of this later).
I have to take some better pictures of the final finished product, but for now here are a few pictures of the faux-finished crackling: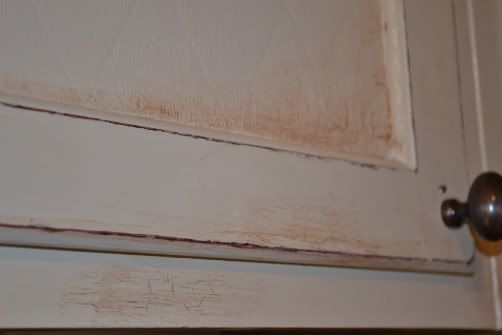 After all of this, all that was left was the floor. How would we ever afford to redo the UGLY green laminate floor when we only had about $170 left from our original $400 budget???
And then came yet ANOTHER unbelievable deal...I was at Lowes (yet again)
and was YET AGAIN walking the flooring aisles pricing tile. I knew I needed at LEAST ninety 12" x 12" tiles to do both the kitchen and the laundry room (which is right off the kitchen and not enclosed with a door) not to mention grout, backer board, and thinset mortar...plus the tools needed for tiling like a cheap tile cutter, rounded edge sponge, float, and spacers...
So as I was walking the aisles I saw a sign out of the corner of my eye that read, ".49 a tile"...I ran over and lo and behold they had lovely tan tiles on sale that were being discontinued!!!!!!!!!!!! In all the times I had been to Lowes I had never seen tile go cheaper than .69 cents a tile!!!!
I couldn't believe my luck...so I bought about $70 worth of tile and took it home without buying any of the other items I would need to tile because I knew I wouldn't have enough money. I had planned on going to my husband to explain that the $400 just wasn't quite enough, but as fate would have it, within the week I was at yet ANOTHER Lowes and they had a big cart in the tile section FULL of broken open bags of grout...and WOULD you BELIEVE that they had 4 bags of the SAME cream color for only $2 a bag?!?!?!
I was soo excited!! I just kept storing all of this in the house...slowly aquiring all the supplies I would need to finish the project. All that was left to buy was the tile cutter, and back board, but the tile cutter was $30 and the backer board was $10 a piece and I needed 8 pieces. So the $100 odd dollars I had left just wasn't going to stretch.
So again I waited...
A few weeks later, I went to our local Habitat for Humanity resale shop and they had 2 pieces of the backer board I needed for only $4 each...THEN I went to Lowes again and they had some broken pieces of backer board marked 50% off!! This was enough to finish my project.
My dad let me borrow some of the additional tile cutting tools I needed and my husband and I began to tile the kitchen. First came laying the backer board:
Then we placed the tile on the floor to lay the pattern out...
After much fidgiting and fussing we began to actually lay the tile!
This was our first tile job EVER, so it took a lot of planning, and reading up on tiling, and researching online to make sure we did everything right...After we laid it all out with the spacers, we of course waited over 24 hours for the thinset to cure...so all night it looked like this and we couldn't walk on it...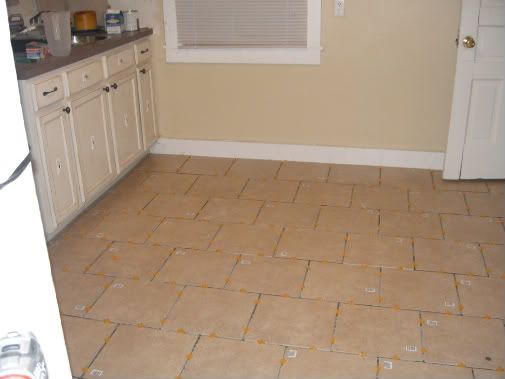 Finally after letting it sit over 24 hours we were able to do the grout...Though it was our first tiling project
, I think my husband and I made a pretty good team. It turned out soo good!!!
Ahhh...of course there are still little finishing touches that need to be done with the whole project, but for just a tiny bit over $400 we were able to completely redo not only the kitchen, but also the adjoining laundry room!
It was without a doubt the most strenous project I've ever taken on because we did it all ourselves, but I learned so much, and am sooo VERY happy with out new kitchen!!!
More recent pics to come....!!